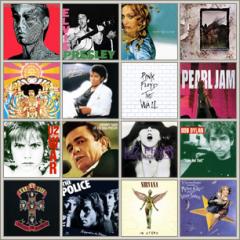 I am going through the Rolling Stone Top 500 albums of all time list. I am cheating a bit by starting at 100 and working my way to number one.
Even if you do not agree with the RS rankings or my numeric grades below, it is a fun list because it exposes you to some albums that might be outside of your usual listening genre that are worth a listen. I am up to number 74 on the list and these are my findings so far...
---
Spotlight Album
TV On The Radio - Will Do ()
Really good song off of TV on the Radio's new album Nine Types of Light. I love the lyrics
...Your love makes a fool of you
You can't seem to understand
Our heart doesn't play by rules
And love has it's own demands
But I'll be there to take care of you
If ever you should decide
But you don't want to waste your life
In the middle of a lovesick lullaby

Anytime will do
My love
Anytime will do...
View More Spotlight Albums