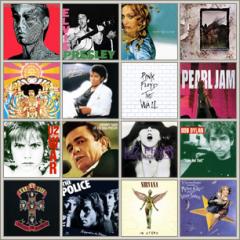 I am going through the Rolling Stone Top 500 albums of all time list. I am cheating a bit by starting at 100 and working my way to number one.
Even if you do not agree with the RS rankings or my numeric grades below, it is a fun list because it exposes you to some albums that might be outside of your usual listening genre that are worth a listen. I am up to number 74 on the list and these are my findings so far...
---
Spotlight Album
Ray Lamontagne - Jolene ()
...A man needs something he can hold onto
A nine pound hammer or a woman like you
Either one of them things will do
Jolene
I ain't about to go straight
It's too late
I found myself face down in the ditch
Booze in my hair
Blood on my lips
A picture of you, holding a picture of me
In the pocket of my blue jeans
Still don't know what love means
Still don't know what love means...
View More Spotlight Albums