My brother, Robert performing at a cafe in Edmonton. I'm not sure who took the photo, but I like it.
---
Alright folks, after an interesting week which included a phenomenal concert (Red Hot Chili Peppers with opener 'The Mars Volta'), I have been sick for the last couple of days. Now I am getting caught up on missed work and such.
I have tried googling for the setlist of the Tuesday, September 19th, Saskatoon show I attended with friends but have had no luck. From my decent memory, I can recall these songs from the 2 hour set, though the order is not precise:

1	short intro jam
2	can't stop
3	scar tissue
4	dani california
5	charlie
6       fortune faded
7	blood sugar sex magik
8	strip my mind		
9	don't forget me
10      will you still love me tomorrow (dusty springfield/carole king)
11	snow (hey ya)
12	right on time
13	unknown #1
14	warlocks
15	unknown #2
16	by the way
17	parallel universe
18	flea solo
19	flea/john jam
20	californication
21	tell me baby??
22	short jam??
----------
  encore
----------
1	under the bridge
2	give it away
3	long jam john/flea/chad/omar (mars volta)

---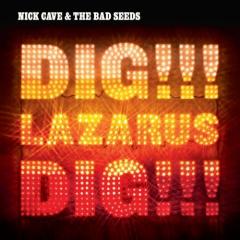 Nick Cave And The Bad Seeds - Dig!!! Lazarus Dig!!! (2008)
This album has been a staple of my music collection since it's release in 2008. I think it is one of Nick Cave's best albums. The album is moody and full of lyrical imagery. Dark, trancy at times such as on the track "Night of the Lotus eaters". The lyrics of this album are very strong and is what draws me back to it time and again. The track "Midnight Man" is an absolute gem:
Hold that chrysalis in your palm See it split and change It won't do you any harm It's just trying to rearrange
It was born to live a day Now it flies up from your hand It's beautiful It's the one they call your ever loving man
Wolves have carried your babies away Oh, your kids drip from their teeth The nights are long and the day Is bitter cold beyond belief...
...Close your eyes, sleep in him Dream of your lost sons and daughters Me, I'll raise up my dorsal fin And glide up and down the waters
The closing track "More news from nowhere" though just under eight minutes could go sixteen and I would be quite happy to listen to it all.
nick cave-midnight man
View More Spotlight Albums