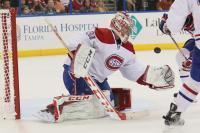 In my opinion, this Montreal team has the best opportunity to win the Stanley Cup since 1992-93. The primary reasons are they have one of the best goalies in the game today, Carey Price and a legitimate blend of players needed for post season success.
---
Words of Wisdom
The greater the stupidity, the greater the clarity. Stupidity is brief and guileless, while wit equivocates and hides. Wit is a scoundrel, while stupidity is honest and sincere.

Fyodor Dostoyevsky, "The Brothers Karamazov"
More Quotes & Lyrics
Spotlight Album
TV On The Radio - Will Do ()
Really good song off of TV on the Radio's new album Nine Types of Light. I love the lyrics
...Your love makes a fool of you
You can't seem to understand
Our heart doesn't play by rules
And love has it's own demands
But I'll be there to take care of you
If ever you should decide
But you don't want to waste your life
In the middle of a lovesick lullaby

Anytime will do
My love
Anytime will do...
View More Spotlight Albums