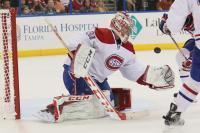 In my opinion, this Montreal team has the best opportunity to win the Stanley Cup since 1992-93. The primary reasons are they have one of the best goalies in the game today, Carey Price and a legitimate blend of players needed for post season success.
---
Words of Wisdom
The most exciting phrase to hear in science, the one that heralds new discoveries, is not "Eureka!" (I found it!) but "That's funny..."

Isaac Asimov
More Quotes & Lyrics
Spotlight Album
Ray Lamontagne - Jolene ()
...A man needs something he can hold onto
A nine pound hammer or a woman like you
Either one of them things will do
Jolene
I ain't about to go straight
It's too late
I found myself face down in the ditch
Booze in my hair
Blood on my lips
A picture of you, holding a picture of me
In the pocket of my blue jeans
Still don't know what love means
Still don't know what love means...
View More Spotlight Albums