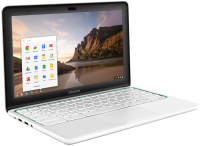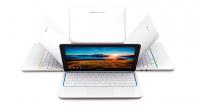 I recently purchased a Google Chromebook. Chromebooks are different from traditional computers because they run on the Chrome Operating System (OS) and the central focus is the browser. Internet connectivity is thus quite important. Another distinction is that installing native apps (local programs) is not possible ( by default ). The hard drive and amount of memory are also much smaller then computers that do focus on native applications.
---
Spotlight Album
TV On The Radio - Will Do ()
Really good song off of TV on the Radio's new album Nine Types of Light. I love the lyrics
...Your love makes a fool of you
You can't seem to understand
Our heart doesn't play by rules
And love has it's own demands
But I'll be there to take care of you
If ever you should decide
But you don't want to waste your life
In the middle of a lovesick lullaby

Anytime will do
My love
Anytime will do...
View More Spotlight Albums
Words of Wisdom
The greater the stupidity, the greater the clarity. Stupidity is brief and guileless, while wit equivocates and hides. Wit is a scoundrel, while stupidity is honest and sincere.

Fyodor Dostoyevsky, "The Brothers Karamazov"
More Quotes & Lyrics